Nursing Assistant Test Prep - Continued Education - Exam Preparation
Classes start every

Monday
2 Weeks CNA test prep course $500 book Included
Jobs Placement upon graduation
We speak English, Spanish, Creole
CNA Practice exam writing in English, Creole, and Spanish & Portuguese.
Classes schedule
✔ Morning -Monday to Friday 10AM-1PM

✔ Night - Monday to Friday 4PM - 7PM

✔ Saturday classes 12PM to 5PM for 4 weeks
The course is 2 weeks.
✔ Classes Start Every Monday

✔ Nursing assistant have to take a state exam.

✔ The cost is $155
What is a Nursing Assistant?
A Certified nursing assistant or CNA is one of the most important roles in the health care team. Their role is to assist not just the medical staff, but patients as well. There is an incredibly high demand for CNAs and they have highly varied duties and roles. A certified nursing assistant job description includes wearing many hats. Learn about the different tasks you'll perform. A certified nursing assistant's (CNA) main role is to provide basic care to patients, as well as assist them in daily activities they might have trouble with on their own, such as bathing.
Certified Nursing Assistants (CNAs) provide intimate, hands-on healthcare to patients in medical settings, helping with bathing, dressing and the basic activities of life. A day in the life of a CNA might also include: Documenting patients' health issues and report to nurses. A certified nursing assistant's primary responsibility is to assist patients with their daily activities. While some CNAs may have additional responsibilities such as administering medication the core functions of a CNA on the job include: Bathing and dressing patients.
Nursing Assistant Skill you will learn
Handwashing
Indirect Care ­­­­
Assist resident needing to use a bedpan
Ambulate the resident using a transfer/gait belt
Change bed linen while the resident remains in bed
Change resident's position to a supported side-lying position
Dress a resident who has a weak arm
Empty contents of resident's urinary drainage bag, and measure
Feed a resident who is sitting in a chair
Measure and record a resident's radial pulse
Measure and record a resident's respirations
Provide catheter care to a female resident who
Provide foot care to a resident who is sitting in a chair
Provide mouth care to a resident who has a denture
Provide mouth care to a resident who has teeth
Provide perineal care to a female resident who
Provide resident hand and nail care
Provide resident a partial bed bath and back rub
Provide resident with passive range of motion
Provide resident with passive range of motion
Transfer the resident from the bed into a
Provide resident with passive range of motion
Top 2 reasons to take your CNA test prep with US
Free days practice just before exam.

High passing rate.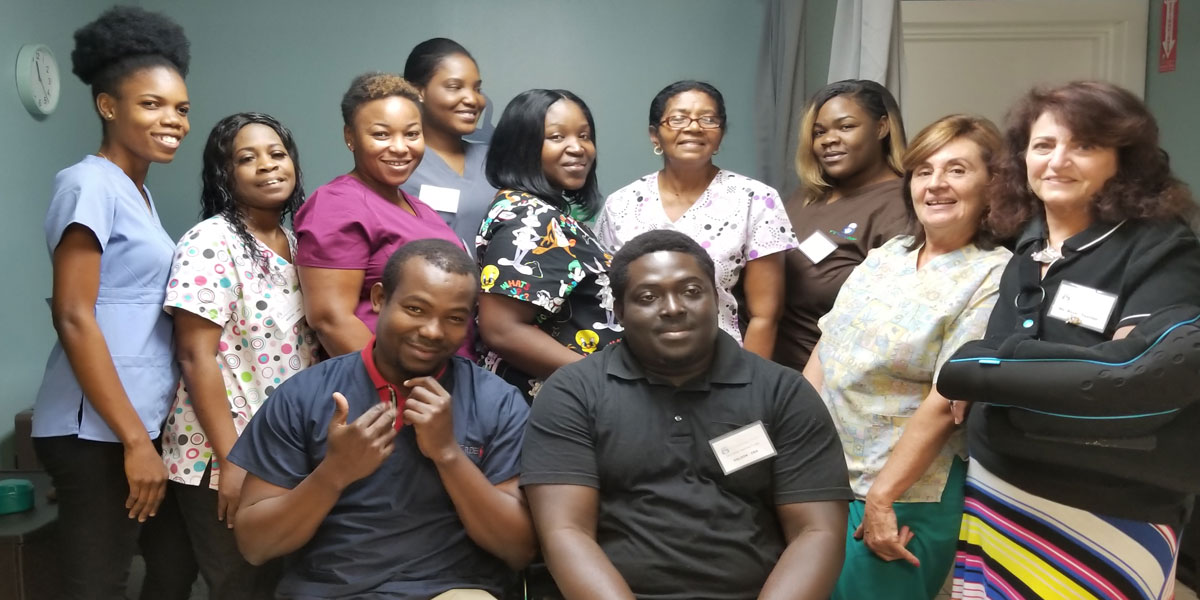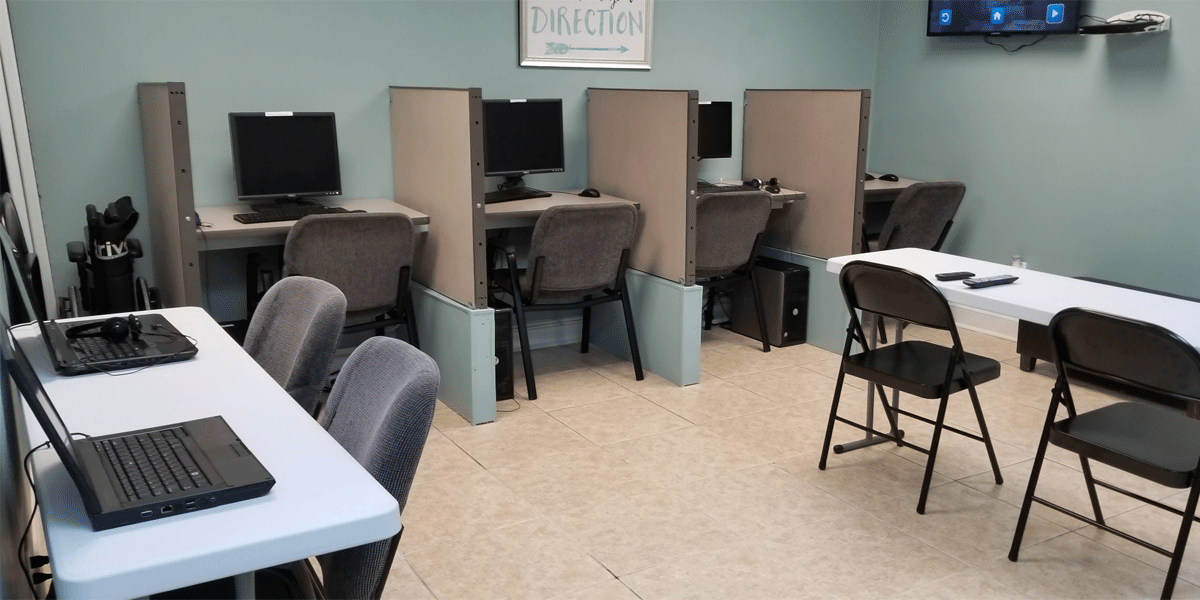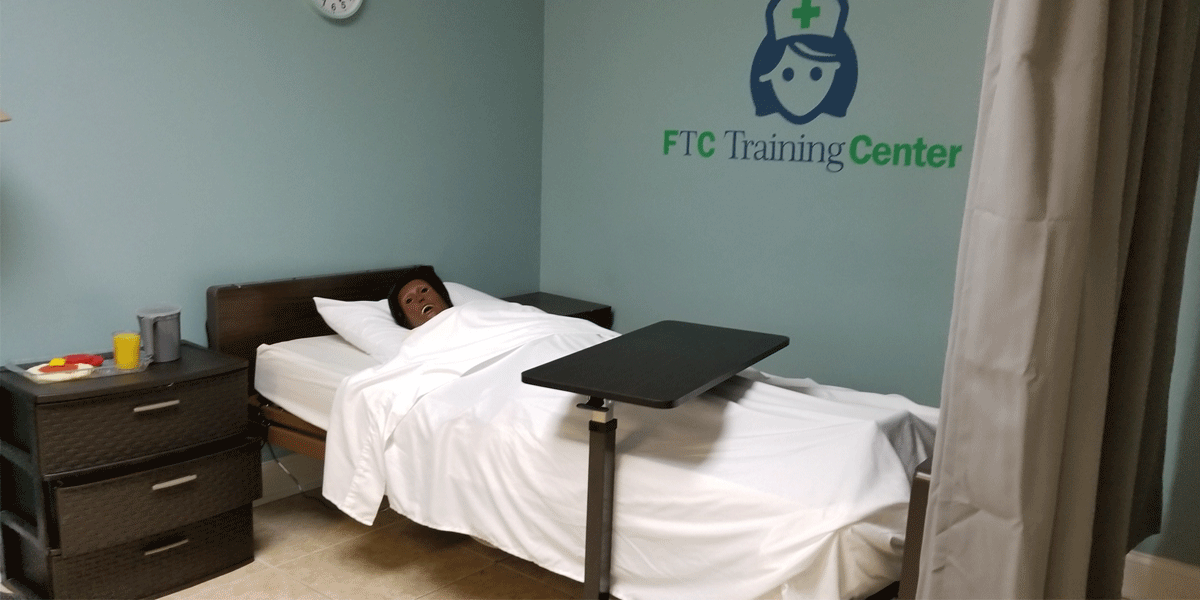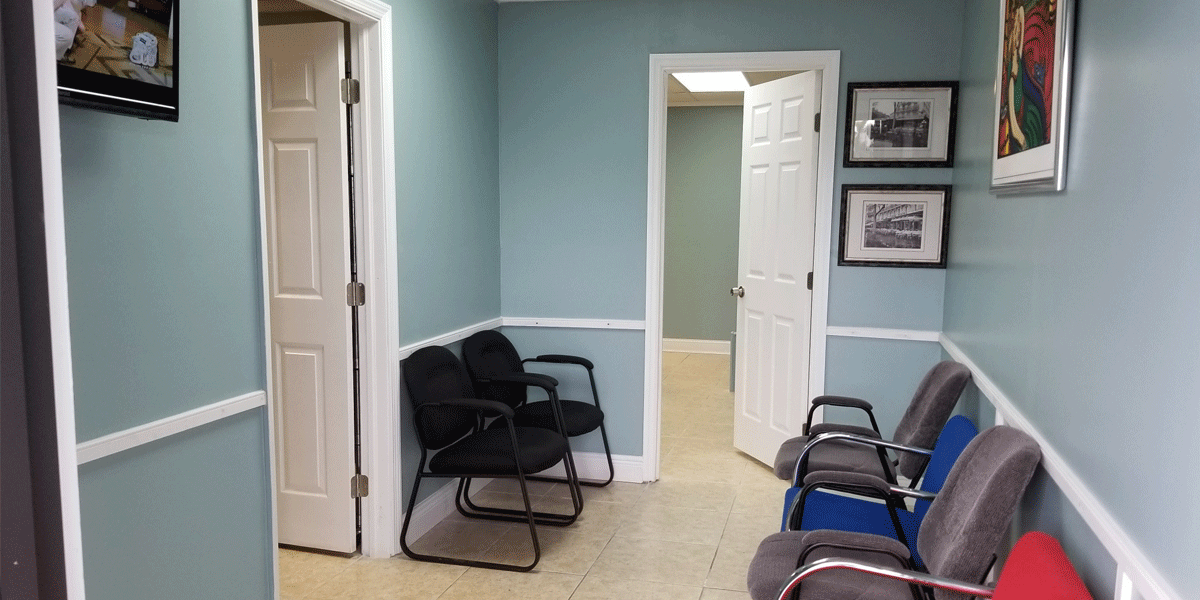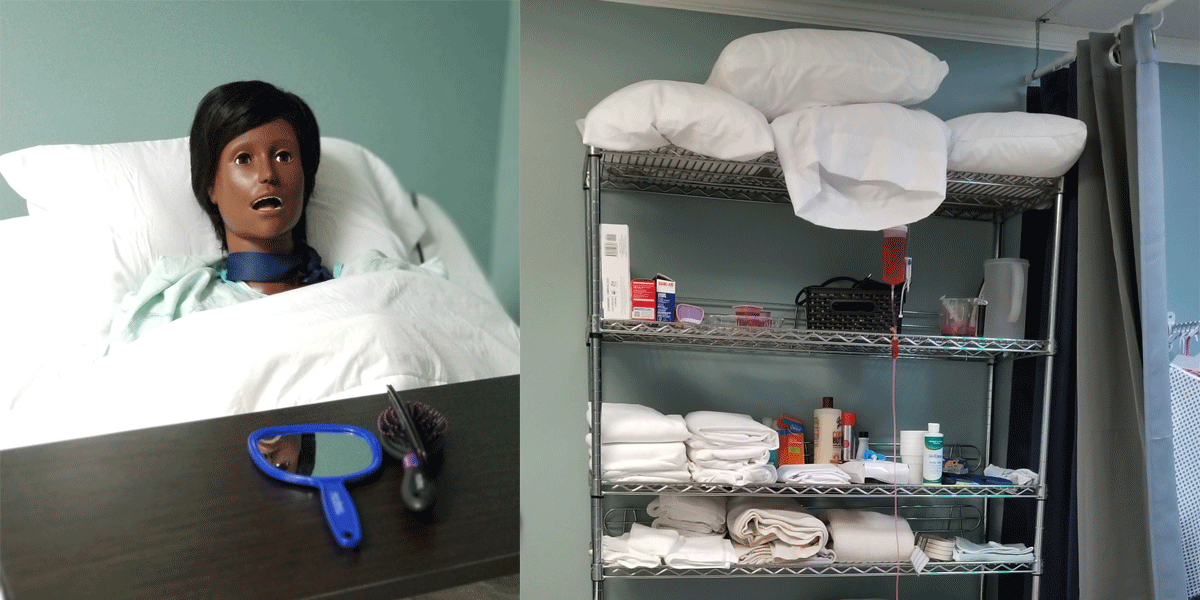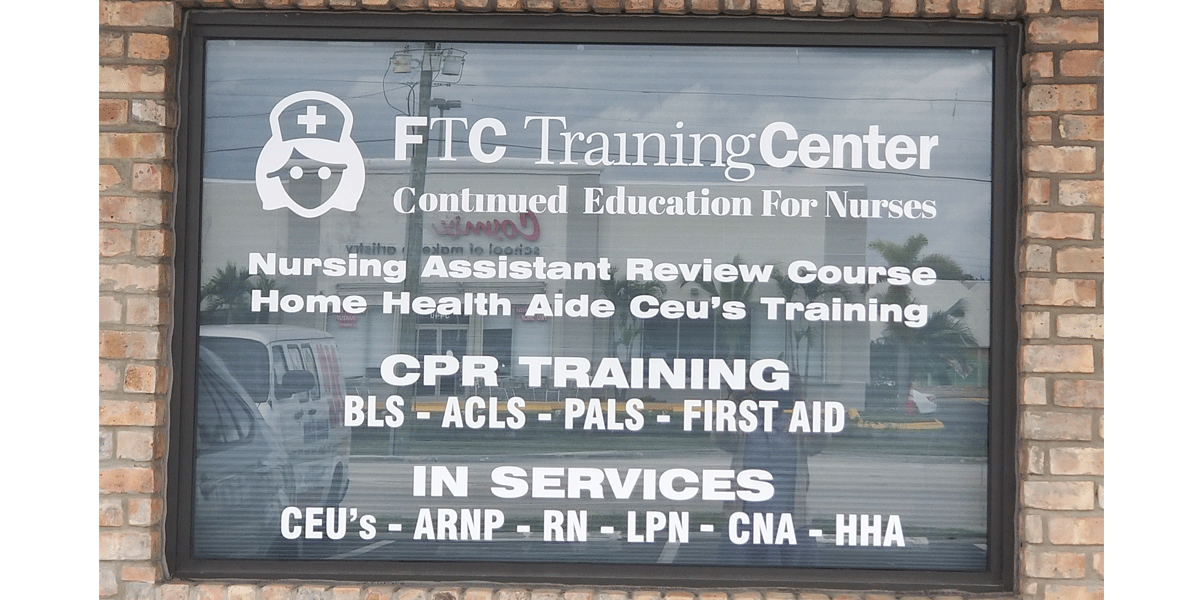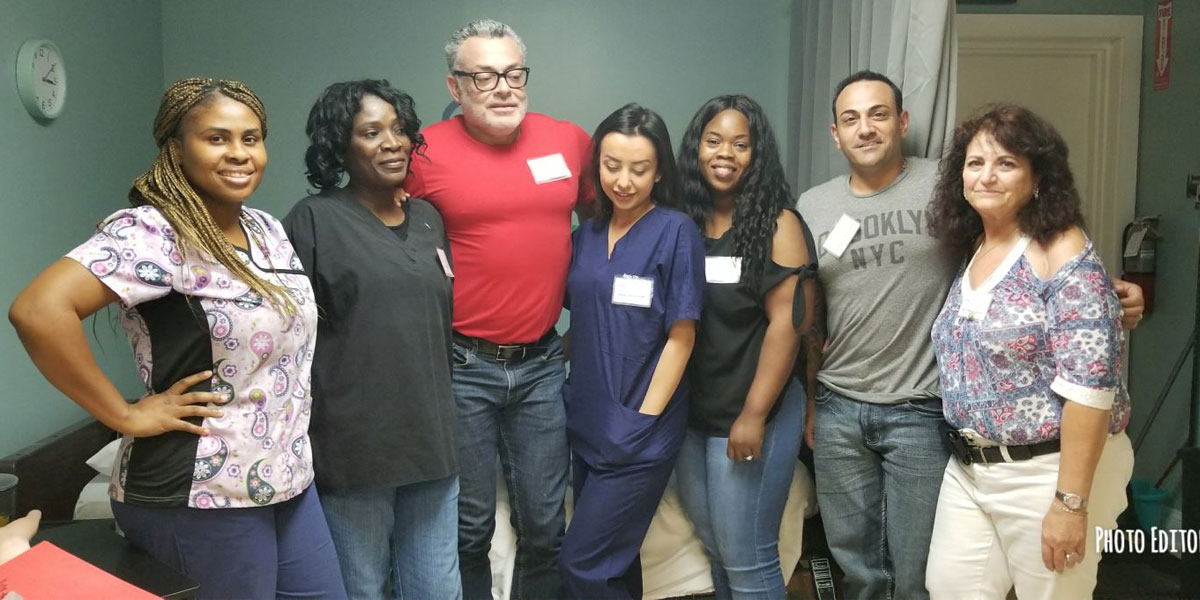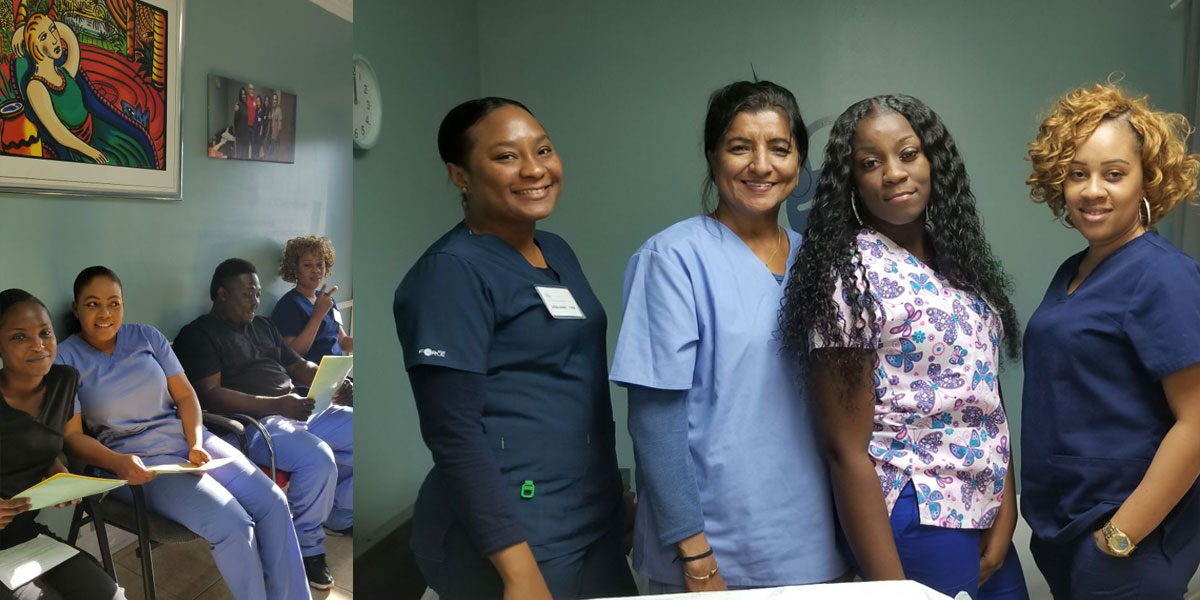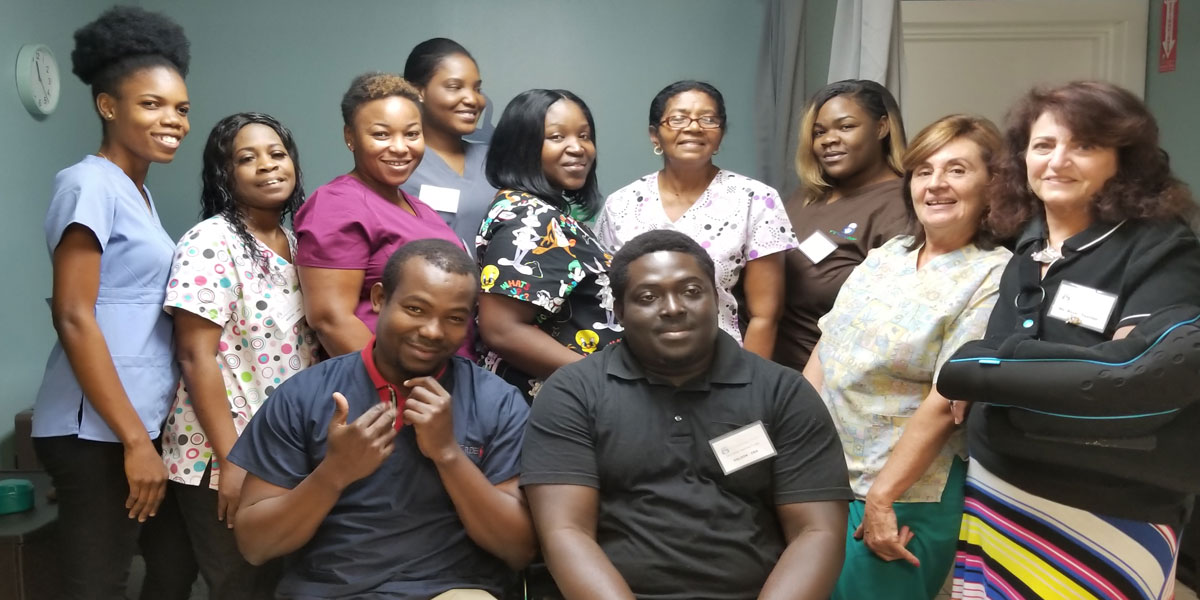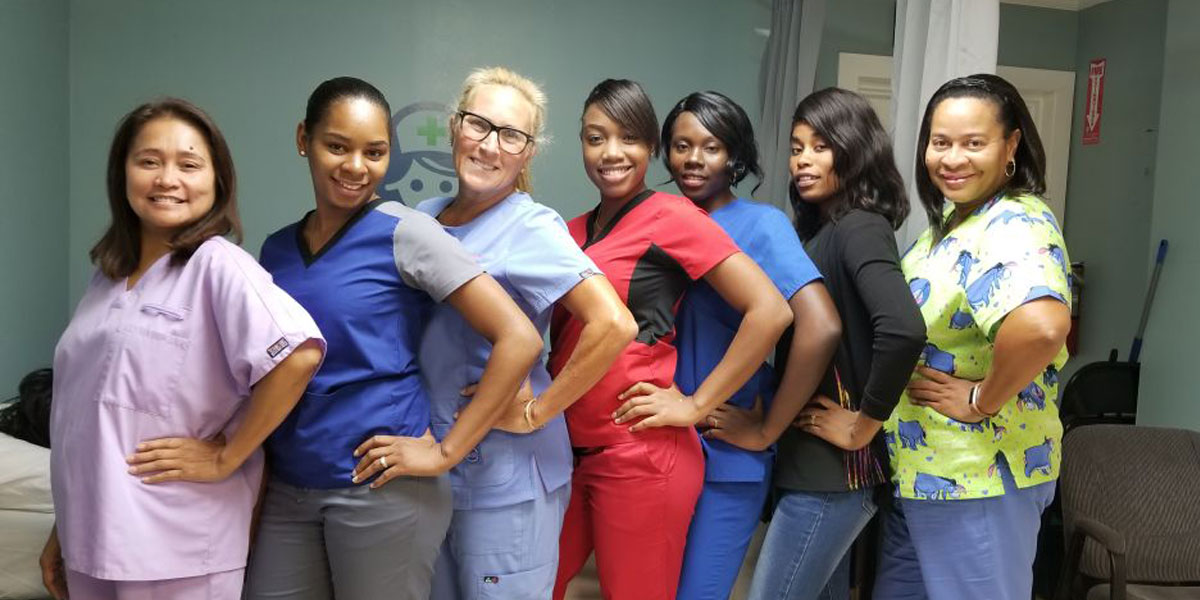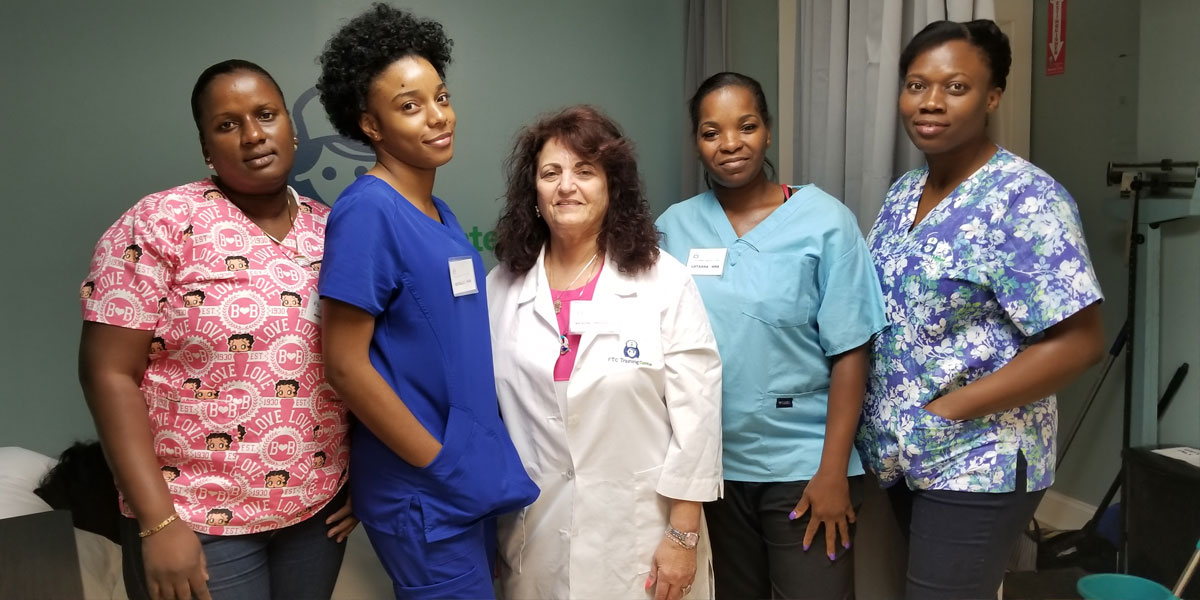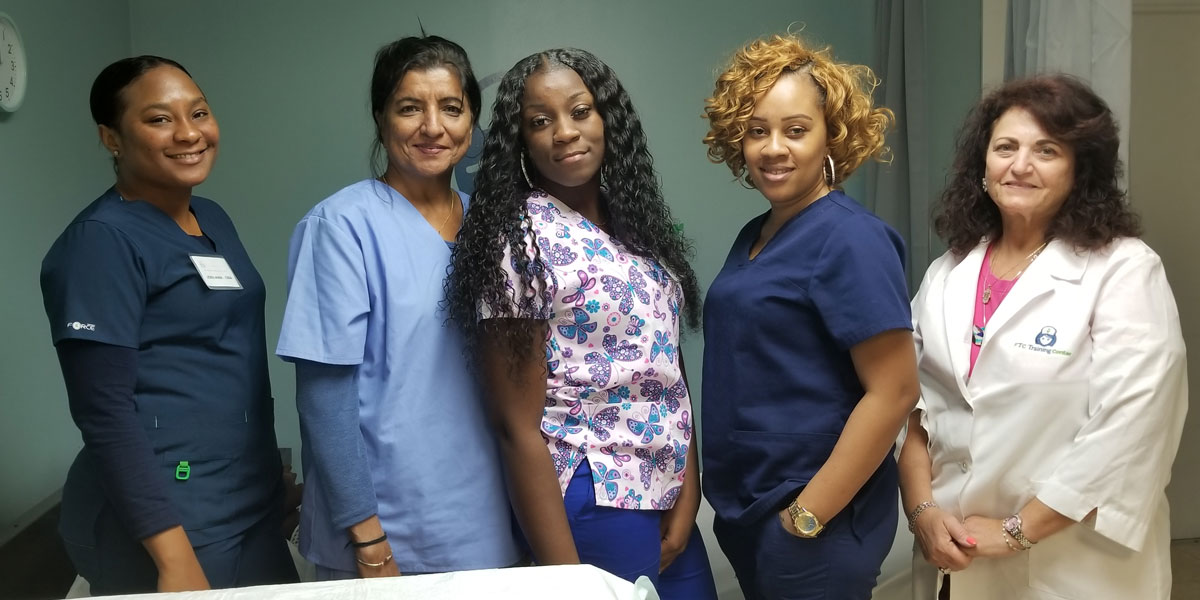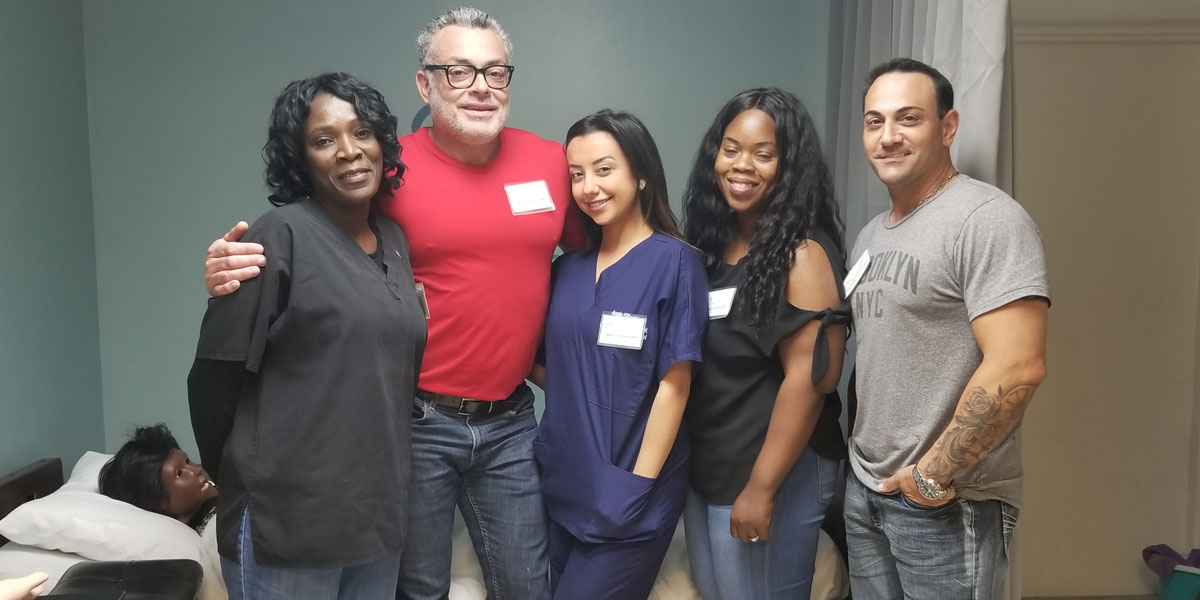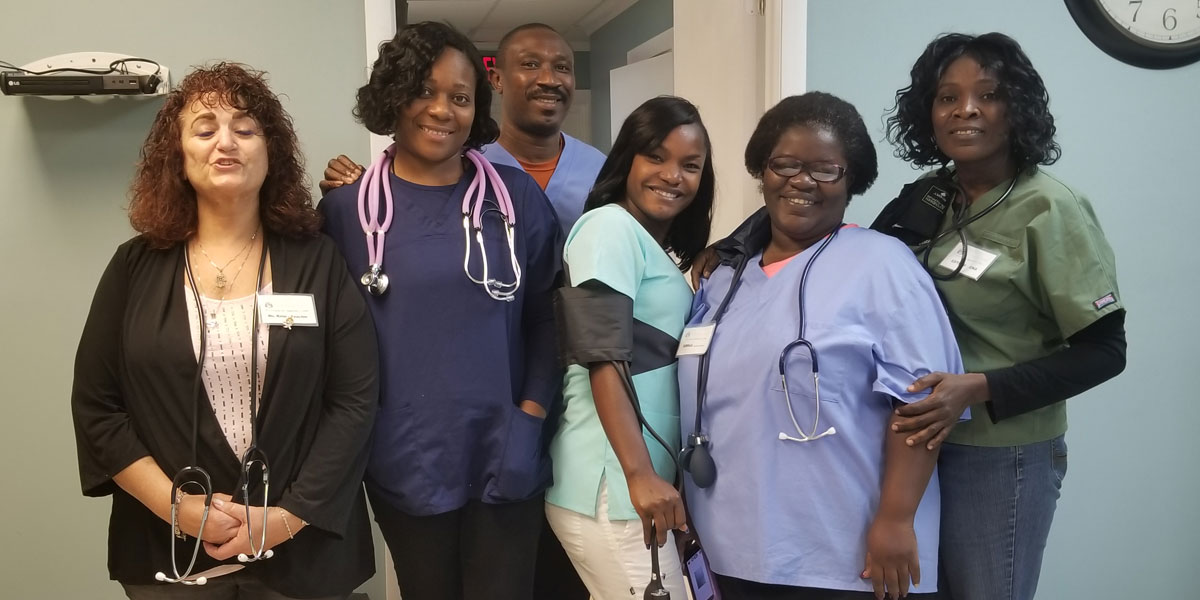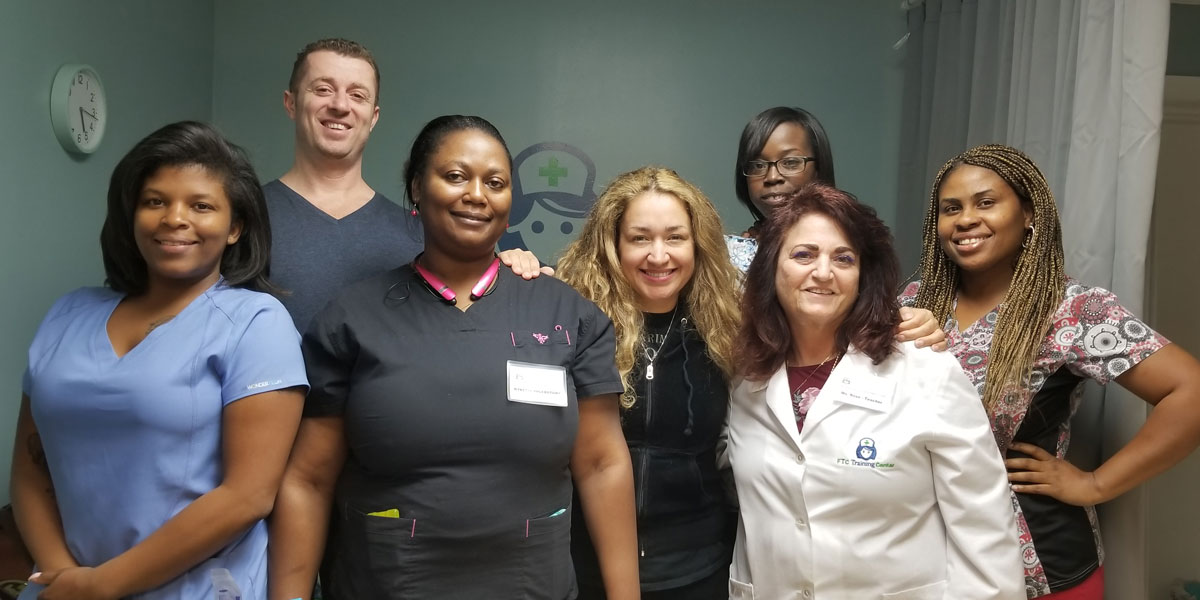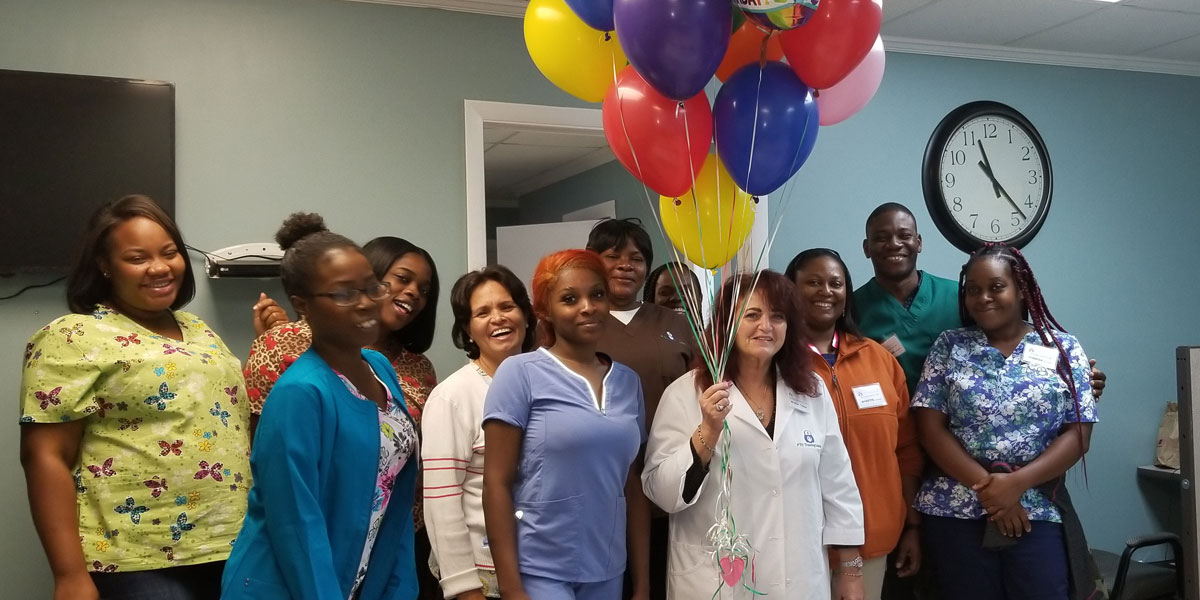 Esther
CNA
I am Esther a friend recommend to FTC to try for the CNA. I have attended other school and failed. But FTC gave me all the necessary tools to pass my CNA exam the first time. Thank you to everyone at Florida Training Center.

Maria
CNA
I went to FTC training center for CNA Training. I passed the test the first. I am glad I choose that school. Thank you FTC

Rebecca
CNA
My name is Rebecca I did my CNA training at FTC Training Center. I passed my exam on the first try. Thank you FTC Training Center.
How to Get a CNA License in Florida?
Complete this two weeks course.
Submit Your Application to prometric.
Submit Your Level 2 Background check $90 with ORI# EDOH0380Z BOARD OF NURSING
Pay Processing Fees to Prometric for $155
Pass the Certification Exam.
When is your Next Class?
Week Class start Every Monday.
We have Morning class at 10am to 1pm or Night 4pm to 7pm for 2 weeks.
And Saturday Class Every Saturday for 4 weeks.
How long is the training?
It's only 2 weeks.
CNA Training – Jobs are Available
Many people have questions about the Level II background screening that is required for the CNA licensing exam in Florida. This article should help clear up some of the mystery surrounding this process.
REQUIREMENTS: Every testing candidate must undergo a Level II (National – FBI) background screening AND be registered in the Florida Clearinghouse prior to being cleared to test. The process is very simple (more on that later in the article) and you will NOT be issued a test date until this requirement has been met. Click here to view the official documentation on this requirement. Clearinghouse information.
The following are some Frequently Asked Questions regarding background screening requirements:
"How will I know if I need this background check?"
This process is done automatically – you will not have to take any extra steps! When you apply for the CNA state exam, Prometric (the testing agency) will send a request to the clearinghouse. The Clearinghouse will send back one of two responses: "Record Found" or "Record Not Found". Prometric will forward this result to you in an email (see attached example). If the result of the FBI screening states "Record Found", no further action on your part is required and you should receive another email from Prometric within 2 weeks with your test date. If the result states "Record Not Found", you will be required to make an appointment with a LiveScan vendor for fingerprint, photo and privacy policy submission.
"How does the background process work?"
"What if I already had a background check?"
A previous background check/fingerprint acquisition may not be sufficient to meet the requirements for testing. The Florida Clearinghouse was created in January 2013 and NO individuals were "grandfathered" in. In order for your previous background check to qualify, it must have been completed AFTER January 1, 2013, included both fingerprints and photo and a signed privacy policy (at the time of fingerprinting) AND been completed by a participating agency (Department of Children and Families, Department of Health, Agency for Health Care Administration, Department of Elder Affairs, Department of Juvenile Justice, Agency for Persons with Disabilities, Vocational Rehabilitation). Chances are…you will need this upgraded background process!
"Do I have to take the fingerprints anywhere?"
No. This is a completely electronic process. The LiveScan vendor will capture your fingerprints, photo and signature and submit them to the appropriate agency electronically. There is nothing more for you to do.
"What happens after I have my fingerprints and picture taken?"
The state of Florida will evaluate your background for disqualifying offenses (see related article HERE on criminal history) and, if they find nothing that precludes you from testing, will issue a testing clearance to Prometric (the testing agency) electronically. Once this clearance is received by Prometric, they will assign you a testing date. This process usually takes 7-10 business days from submission of fingerprints; however processing times can be considerably longer during peak application times (i.e., mid-April through June). You will receive an email from Prometric with an attachment that provides your testing date, testing site information and directions to the testing site. Print this attachment and bring it to the testing center with you on testing day.
"Should I get my fingerprints done before I apply for the test?"
No. You should submit your application to Prometric (either by mail or online) and follow the procedure above. Submitting fingerprints without an agency to deliver them to is counter-productive and can delay your processing. Using an agency other than a LiveScan vendor will render your fingerprints invalid. You MUST apply to Prometric for the CNA state exam, wait for the confirmation email and evaluate whether your record was found. If it states "Record Not Found" make an appointment with an authorized LiveScan Vendor and submit your fingerprints, photo and signature. Any deviation from this process will result in a testing delay or a disqualification of your submission.
"Can I get my fingerprints done at the Sheriff's office (or other agency)?"
No. You must use an approved LiveScan vendor. The background check must include photo and fingerprints under the appropriate code.
What is the ONR number?
ORI NUMBER CNA Examination applicant – EDOH0380Z BOARD OF NURSING
What is board of nursing number?
Board of nursing 8502454125
What is prometric number?
When do you give your test?
Once a month only to our students.
WHEN IS YOUR NEXT CLASS?
Class start Every Monday. We have Morning class at 10am to 1pm or Night 4pm to 7pm.
HOW LONG IS THE TRAINING?
HOW MUCH I NEED TO START?
You only need $100 to start..
Any other questions visit this page.
Contact For CNA Test Prep